Joel Madden has No Plans to Marry Nicole Richie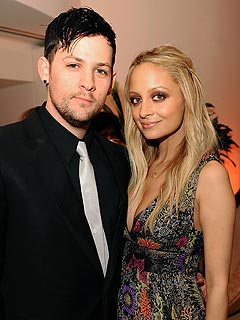 For
Nicole Richie
and Joel Madden, the wedding bells can wait – at least for a little while.
"We don't have any plans for that right now," Madden told PEOPLE on Wednesday. "We're just happy, and we're being a family, and that's where we're at right now. But marriage means something different to everyone."
As a celebrity DJ at the Oakley/Suzuki Celebrity Ride Day event in Perris, Calif., Madden took turns spinning records, and quelling notions of a summer rush to the altar.
"Right now we're really happy," the Good Charlotte frontman says, "and we're concentrating on our family, and that's what is making us happy right now. We're moving at our own pace."
The
new father
has his mind now on raising little daughter Harlow. "It's crazy," he says. "Every day she does something new. When she reaches for me, it's awesome! Just watching her grow, it melts me!"
Source: People.com