Taylor Swift on Blender!
Taylor is SO hot, check out more pictures under the cut!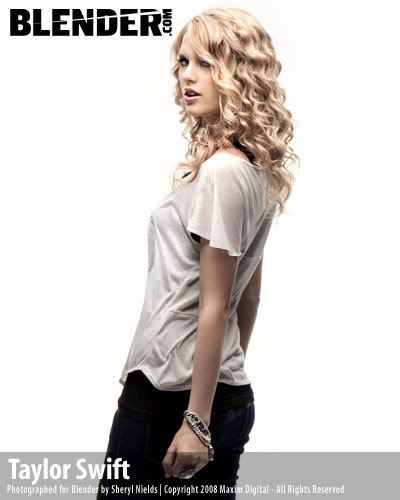 A part of the interview:
Steering her Lexus down the winding road back to her house, she recounts a close encounter with another ex-boyfriend, the guy who inspired the hit heartbreak ballad "Teardrops on My Guitar."
"I was on my way out of the house to meet Carrie and Kellie for the hockey game,"
she says.
"He was standing there in my driveway. I haven't talked to this guy in two years. I was like, 'Um, hi?'"
"It would have been really cool and poetic. She chuckles gently. if he had turned up at my house right after my album came out. But it was two years later. A couple of things had happened in my life since then. I was like,
'It's really great to see you. But you're a little late.'"
Back in Hendersonville, Swift steers her car into the parking lot of the high school she attended for two years before she left to pursue her career full-time. "It's so weird," she says.
"All these cars belong to my friends. They're in class; I'm doing a magazine interview. Life is funny."